Cardlock Network
PetroCard gives you the tools to get where you need to go. Our partnerships with both Pacific Pride and CFN allow for complete location and product coverage, while our driver restrictions provide total control over your fleet.
Cardlocks are automated, unattended fueling sites designed for commercial fleet vehicles. PetroCard's card programs grant total control over your fleet's spending and gives drivers access to cardlocks nationwide.
Convenient and Accessible Fueling Facilities
Clean and well lit, our cardlock facilities are open 24-hours a day, seven days a week. With high canopies, large turning radiuses, and DEF availability, these stations were designed for commercial trucks. When fueling, our high-speed diesel pumps ensure your drivers get back on the road faster. View our locations page for coverage in your area.
Enhanced Security
PetroCard provides a wide range of solutions that help reduce unauthorized purchases and prevent other security issues. You set the authorized controls for fuel types, locations, and quantity restrictions—giving you complete peace of mind.
Gallon & dollar limit per day
Restrict product grades – Premium and Mid-Grade Gasoline
Track PTO percentages and tax type by vehicle
Time and day of the week fueling restrictions
PIN entry required
MISC Key entry for internal tracking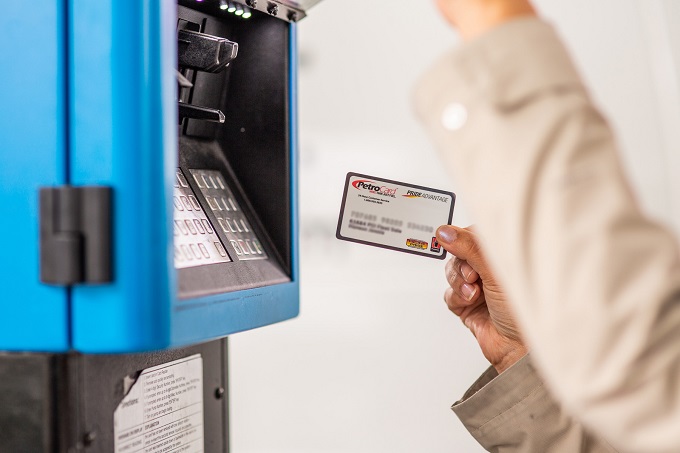 Accurate Fuel Management and Reporting
PetroCard's custom software gives you all the information you need to effectively manage your fleet. We provide detailed reporting and itemized billing for all card purchases on a single invoice. Our Online Account Access web portal allows our customers to:
Manage their card deck – order/edit/invalidate cards
Review and download individual transaction details down to the pump number
Download fuel summary reports with MPG's, tax, and exception reporting
Schedule or view on-demand reports when you need them
Custom and GPS integration reports are also available by request
COMPETITIVE PRICING PROGRAMS
PetroCard offers volume discounts and competitive pricing on a wide range of fuel and other products for your fleet. Whether you operate one truck or a fleet of vehicles, we can create a custom program that will improve the efficiency and profitability of your fleet. Already have a fuel program in place? Contact us for a free comparative price analysis and see how we measure up.
WANT TO LEARN MORE?
Want more information about PetroCard's products and services? Complete the form below and one of our experts will follow-up to discuss how PetroCard can serve your business.